This Is The Place Monument marks the approximate location where the Mormon Pioneers first entered the Salt Lake Valley and ended their 1,300-mile trek. It was here that Brigham Young stopped his carriage in July 1847 and, after surveying the desert valley near the shores of the Great Salt Lake, declared, "This is the right place." A hundred years later, July 24, 1947, a heroic-sized bronze sculpture of Young and two of his colleagues was placed atop a 60-foot pedestal overlooking the Valley. Additionally, the Monument recognizes the early Spanish explorers and missionaries, the fur trappers and the ill-fated Donner-Reed party.
Take a leisurely stroll along Statuary Walk and see additional monuments and sculptures many of which have been generously donated in remembrance of the pioneer history and western heritage.
National Pony Express Monument
The rugged action captured in this horse and rider honors the courageous adventure that was the short-lived Pony Express. Facing a multitude of dangers, pony express riders criss-crossed Utah until the coming of the telegraph made their services obsolete.
This sculpture depicts a handcart pioneer family kneeling in prayer at the end of their journey. Located at the west end of the Park's pedestrian plaza, the monument was commissioned and donated by L.D. and Mary Bowerman, and sculpted by Stan Watts.
Miracle of the Seagulls Monument
This work expresses the elation and gratitude of the Utah pioneers after flocks of seagulls saved their crops from ravenous crickets. It was sculpted by Jonathan Bronson, and donated by Kenneth O. Melby and Robert L. Rice.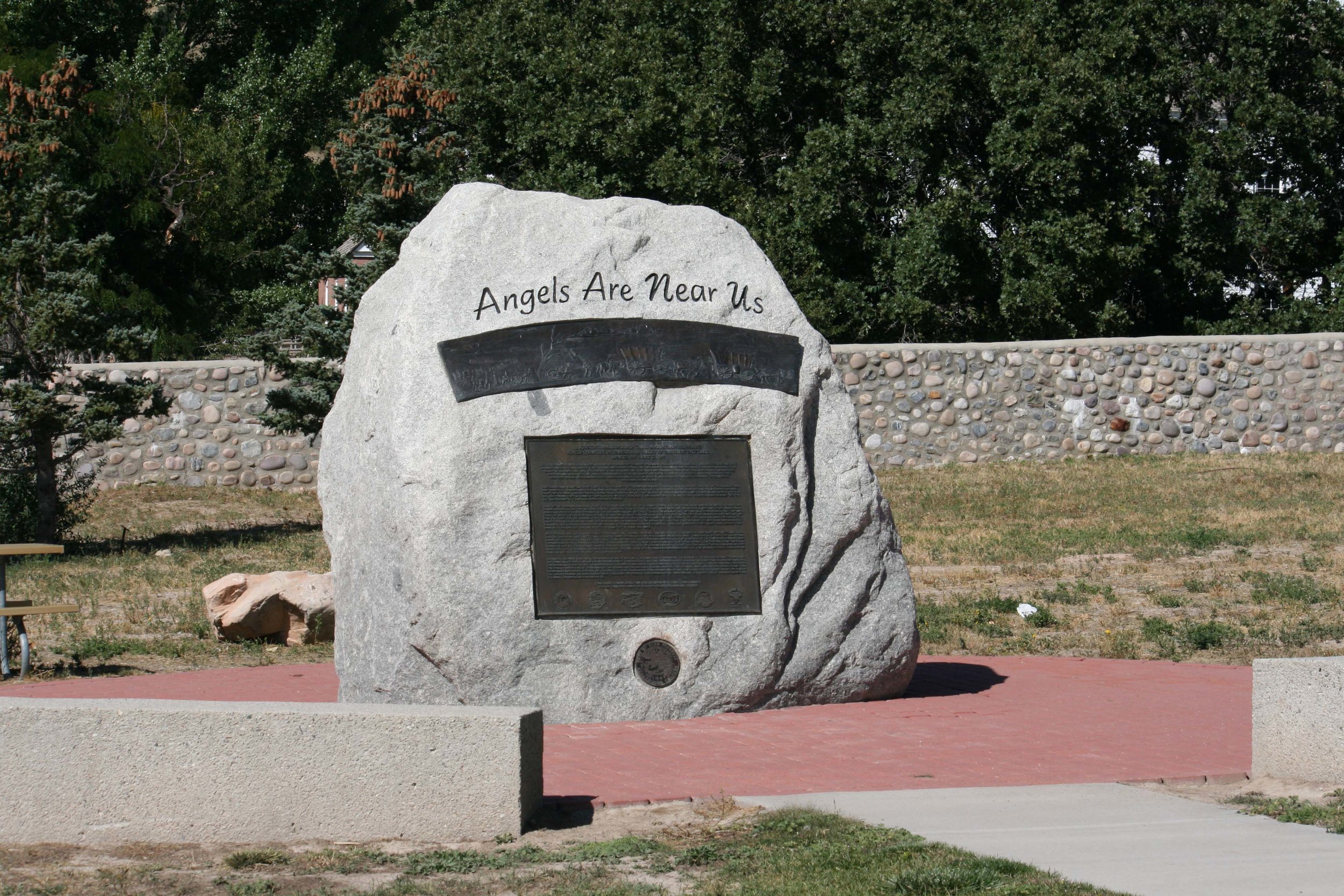 Angels Are Near Us Monument
Commissioned and donated by the Sons of Utah Pioneers, this monument is an enormous boulder from the original Salt Lake Temple quarry and features bronze plaques that recognize the participants of the 1997 sesquicentennial re-enactment of the original pioneer trek of 1847.
Scaled reproduction of the original Eagle Gate located in downtown Salt Lake City.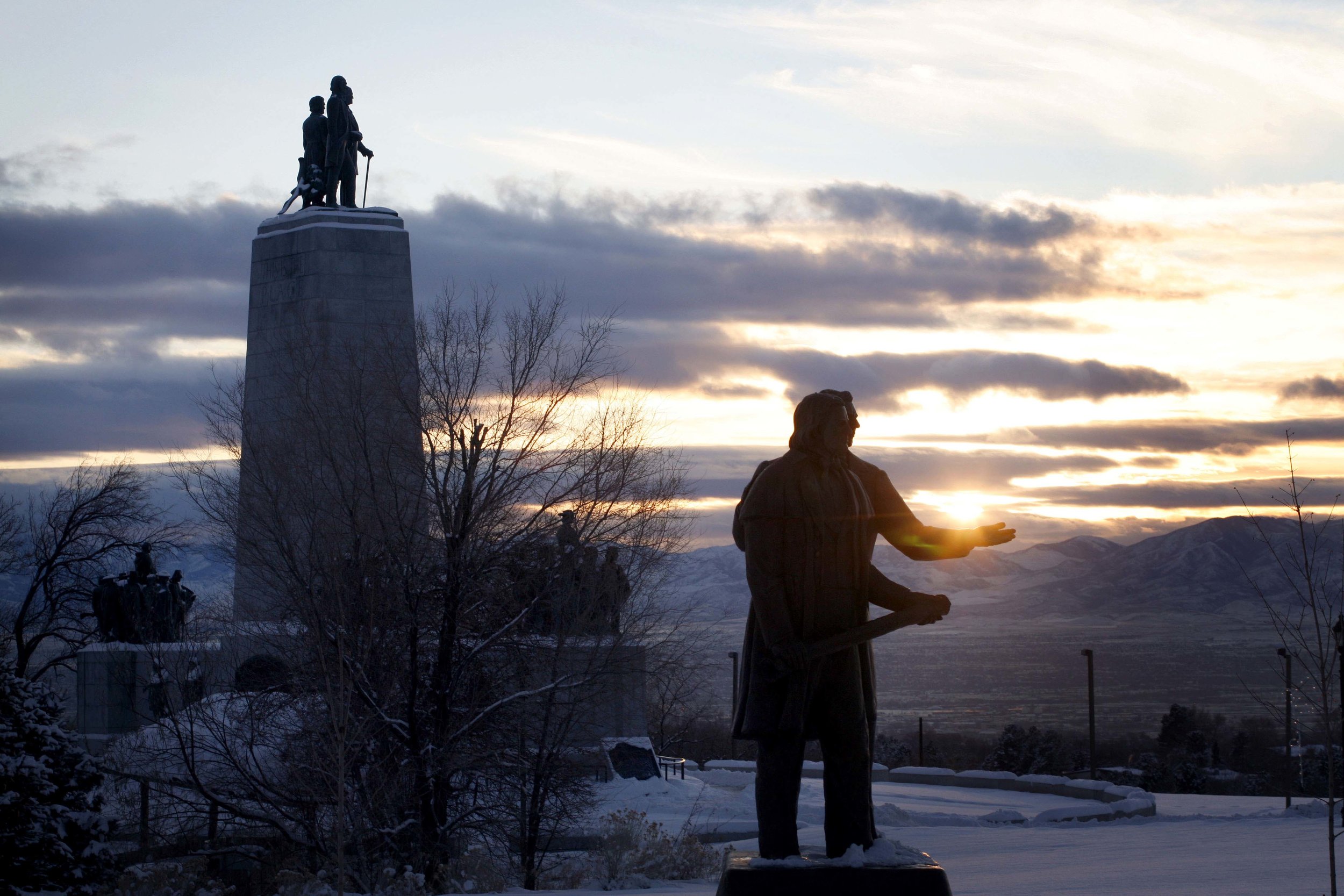 This sculpture represents Mormon Church founder Joseph Smith and Brigham Young discussing the migration of the "saints" from turmoil in Illinois to the West. Smith was killed by a mob in 1844, two years before Young led the exodus to the Salt Lake Valley.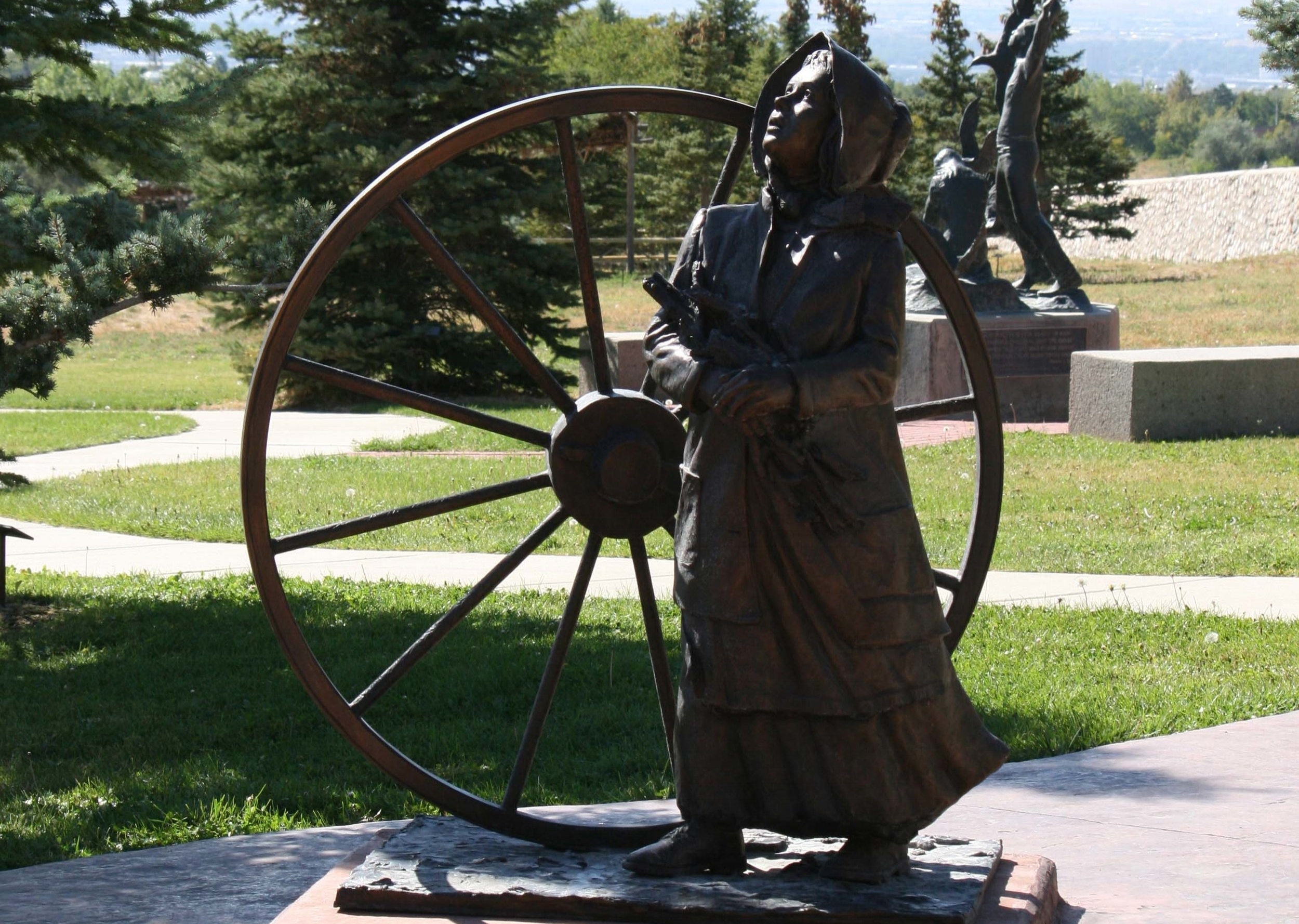 The arduous trek across the plains from Illinois to Utah was marked by many graves as exposure, exhaustion, disease and even starvation claimed young and old alike. One of those was nine-year-old Bodell Mortensen, who died of exposure in any early winter Wyoming storm. The monument by Utah sculptor Stan Watts honors all children who were casualties of the journey.